Roofing systems used to have one goal to keep elements out of your building.    As building owners it is more important than ever to distinguish your building as a prime leasing space by adapting new technologies and becoming more Energy Efficient.  So your roofing system needs to do more than just protect your building.
Your roofing system can go "GREEN" by becoming white.  By coating your existing roof white it can become highly reflective.
What does reflective mean towards your building:  It is a measured percentage of the solar radiation that strikes a roof surface and is reflected away from it.  Roof that are White or opaque do not allow solar radiation to pass through it like a window or the older black roofing systems.    Any incoming radiation that is not reflected must be absorbed, which decreases your buildings Energy Efficiency.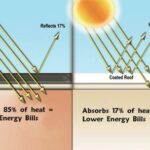 Converting your existing roofing system to a reflective one does not mean you have to replace your existing system.  Since it only takes a few layers of molecules to produce reflectivity, by covering your old system with highly reflective granules, coatings or film your old system now becomes highly reflective.  In turn it also becomes more energy efficient which makes your space more desirable than others.
If you are interested in learning more about how reflective roof coatings and the ROI on your investment, Vanguard's roofing specialist can provide you with more detailed information on how you can save money by coating your roof.
Contact Vanguard Roofing we have over 40 years' experience in commercial roofing, serving the New York, New Jersey, & Connecticut areas, we can provide to answers all your questions.