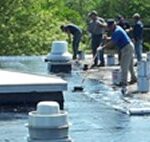 That commercial roof maintenance is necessary for every building's stability is never in contention. In fact, most builders give priority to roofing and the related repair more than the other aspects a building. Of course, there are good reasons for that. For instance, a roof protects the whole structure from direct sunrays, rain and other elements that would damage it. Good roofing therefore must be durable, capable or resisting bad weather and easy to maintain.
Experienced Commercial Roofing Company
As mentioned before, you need to maintain your roofing regularly. However, there are bound to be challenges when choosing the right roofing contractor to oversee the said maintenance. Indeed, finding a reliable repairer in big states like New York, Massachusetts, some parts of Connecticut or New Jersey is more challenging considering the large number of roofing companies in the area. To be safe though, you need to look for experienced roofing experts with roofing maintenance plans such as Vanguard Roofing.
Roof Maintenance Plans
So, what is a commercial roof maintenance plan and why is it important to you? Well, a commercial roof repair plan from Vanguard Roofing gives you (the owner) the option to determine when and which areas of your roof you would like repaired. In addition, you get to choose the specific service(s) you would need. Through their detailed contact form, Vanguard Roofing makes this scheduling process even easier by allowing you to fill in all the necessary details for commercial roofing maintenance.
Free Roofing Maintenance Consultation
As to what type of services to include in your roofing plan, there is always completely free roofing consultation. The said consultation can be through their toll free phone number or via an easy-to-fill emergency form on their website (whichever is most convenient for you). One good thing about Vanguard Consultants is their diverse knowledge of the difference roofing types. Their roofing professionals can efficiently handle your concerns related to Flat, Metal, Shingle, or Slate roofing systems.
Benefits of Vanguard's Roof Maintenance Programs
While it is not possible to exhaustively list the benefits of Vanguard Roofing's maintenance, certain benefits clearly standout. First, they guarantee premium single membrane roofing installation and maintenance plans to almost every roofing structure. Secondly, Vanguard has customized restoration, roof replacement and repair packages to suit individual builder's needs. Vanguard also has one of the best green solutions (i.e. from reflective coating to LED Lights) at comparatively affordable cost. Finally yet importantly, the company has a reliable customer support; from direct phone number to an email support.
Since 1972 Vanguard has been serving commercial and industrial roofing customers in Westchester, Rockland, Putnam, Orange, Sullivan, Dutchess and Ulster counties in New York; Essex, Sussex and Bergen counties in New Jersey; Fairfield and Litchfield counties in Connecticut; and Berkshire County in Massachusetts. Contact us today to discover the commercial roof maintenance program we have for you.