Vanguard Roofing's Emergency Roof Repair Response Program
Northeastern storms can wreck havoc on your commercial or industrial building. The roof usually takes the brunt of the damage. Strong winds, heavy rains & snow load can quickly create roof leaks. Our Emergency Roof Repair service program provides rapid response to your roofing issue. Protect your business with prompt repair service from our certified, insured roofers. Commercial roofing is our business. Let us protect yours when you need emergency roofing repair.
Our experts will arrive on the scene and take immediate action to stop leaks first.
We'll help provide documentation you may need for filing insurance claims, including photo documentation.
Certified thermal imagery and leak detection is available when necessary.
TPO Roof Repair, EPDM Roof Repair
Industrial & Commercial Snow Removal
Contact Vanguard Roofing for Emergency Roof Repair.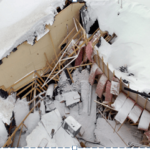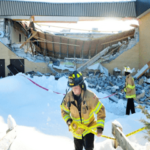 Emergency Authorization Form
---