White Plains Commercial Roofing Contractors
The city is the commercial hub of Westchester County and just north of NYC. White Plains is at the very heart of Westchester's political, social and economic activity. More than "The Birthplace of the State of New York," it combines a suburban environment with urban sophistication for a great living and working experience, and its fusion of commercial, retail and dining centers allows residents to get the best of all worlds. A mere 25 miles north of Manhattan and a 35-minute commute via express train, and it's relatively moderate housing costs and close commuting distance to midtown Manhattan, have attracted a lot of people who commute to New York City for work.
Vanguard Roofing is a White Plains Roofer providing Roofing Repair, Roofers and Roofing Contractors Services to the following cities in Westchester County: Elmsford, Port Chester, Hawthorn, Scarsdale, Valhalla, White Plains.
Industrial Roofers in White Plains
Vanguard Roofing has established itself as one of White Plains's best commercial, manufacturing and industrial roofing contractors for commercial, manufacturing and industrial contractors, realtors and property managers.
We understand the common commercial roofing repair and commercial roof replacement needs in the White Plains, NY area. We specialize in industrial roofing applications for industrial buildings, apartment complexes in White Plains, homeowner's associations, shopping centers, office buildings and White Plains factories with the top industrial and commercial roofing available. We provide many other commercial roofing services in New York.
Our White Plains Commercial Roofing Services include:
Find the best quality industrial roofing contractor in White Plains. Contact Vanguard Roofing today for your White Plains commercial roofing needs.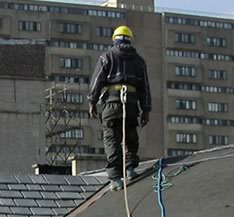 ---
White Plains attracts regional and national business as well as international headquarters within its boundaries such as Nine West Group, Allegiance Financial, ITT Corporation, Nokia, Heineken USA, Alliance Bernstein, AT&T and Verizon.
BOMA Westchester,(The Building Owners and Managers Association of Westchester County) calls this home. According to BOMA there is 7 million sq feet of leased or owned commercial space in Westchester County.
White Plains experienced significant economic development in the commercial and housing sectors as a result of its Smart Growth and Sustainable Development policies. White Plains also embraces sustainable development, as several office buildings have been renovated to high levels of energy efficiency and green building standards
White Plains is ranked fifth in the state in annual sales volume – retail trade earns more than $2 billion in sales annually, with its unique and one of a kind retail and specialty shops. It is also the home of The Galleria of White Plains, and The City Center of White Plains. While the professional services and healthcare sectors each account for more than $1 billion.
The 292-bed White Plains Hospital Center is a regional leader in orthopedics, obstetrics, neonatology and cancer care, and U.S. News and World Report named it one of the "2012 Best Hospitals" in New York. The hospital center is also a nine time winner of the National Research Corporation's Consumer's Choice Award.