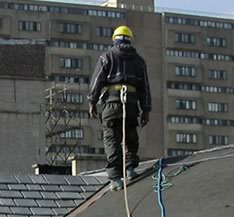 Unique opportunity to join the preeminent roofing company serving the Hudson Valley, Western Massachusetts, Connecticut and the Northern New Jersey area. Vanguard roofing has been in business for 44 years providing custom roofing solutions to over 2,000 customers. The company enjoyed its best year in 2015 and expects to continue expanding in the years to come.
This is an opportunity for you to become a key member of a growing organization with a reputation for impeccable customer service.
If you would like to join our winning team, please send your cover letter and resume to vanguard@vanguardroofing.com or fill out the form below after reviewing the Job Positions!
Will work out of our office located at 1839 South Rd Wappingers Falls, NY
Founded in 1972, Vanguard Roofing provides commercial, industrial, and institutional roofing services to southeast New York. We provide maintenance and
repairs for flat and low slope roofing
on metal, slate, and all flat roofing membranes.
Field Support for Production Crews:
Review scope of work with Foreman/Sub-Contractor.
Supervise Project.
Generate extra work orders, not in the contract, and secure backup.
Investigate any incidents (OSHA, thefts, etc.), document, and submit to the office manager immediately.
Provide assessment with all related backup. Coordinate the scheduling of subcontractors.
Ensure the pre-inspection punch list is completed before inspection.
Complete Manufacturer's final inspection with their representative and ensure any issue is addressed and completed.
Meet with the entire team to finalize outstanding issues.
Coordinate the final close-out of the project.
Strive for a goal of zero punch list items before crew leaving the job site.
Daily contact with sales personnel to review job progress and issues.
Provide progress photos.
Job Overview with Sales Personnel, Office Staff, Sub-Contractors, and Estimator:
Review scope of work, submittals, schedule, and contract; establish lines of communication and areas of responsibilities with the team regarding change orders, billings, etc.
Pre-Job Startup:
Visit and familiarize site; assess project specifics and job safety hazards.
Attend mandatory pre-construction meetings with Sales personnel, coordinate subcontractors, and material itinerary with the office and sales.
Interface with the office:
Creates a pre-job equipment list including safety, specialty equipment, and rentals.
Schedule trucks, equipment deliveries, and returns.
Liaison between field and shop regarding materials needed on a daily basis.
Administrative:
Evaluate projects which are running over budget and identify factors (bad estimate, added enhancements, unforeseen conditions, etc.)
Critique for options of cost control.
Exposure assessment to be done early-on, in writing, describing of deficiencies/shortfalls of both labor and materials.
Complete any other tasks/duties as may be assigned by the president.
Qualifications:
Five years' experience in construction. With at least 2 years in a supervisory role
Understanding construction/roofing practices, techniques, codes, and regulations.
Needs to understand scheduling, recordkeeping, and have the ability to deal effectively with people.
Must be able to prioritize workload to ensure that the most important tasks are completed first.
Excellent communication skills, both orally and in writing.
Ability to train and develop crew leaders.
Ability to problem-solve.
Ability to lead crews.
Requirements:
Must follow all OSHA Guidelines/SOP
Must pass Mandatory/Random drug tests
Have a clean driver's license a must.
Must be able to climb ladders and not be afraid of heights
Must be able to carry 50 Ibs.
Willingness to work on weekends if needed
If you have the background, we are looking for, please email or send your resume and cover letter for immediate consideration.
No phone calls will be accepted.
Vanguard 1839 South Rd Wappingers Falls, NY 12590
Job Type: Full-Time