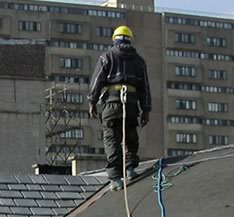 Unique opportunity to join the preeminent roofing company serving the Hudson Valley, Western Massachusetts, Connecticut and the Northern New Jersey area. Vanguard roofing has been in business for 44 years providing custom roofing solutions to over 2,000 customers. The company enjoyed its best year in 2015 and expects to continue expanding in the years to come.
This is an opportunity for you to become a key member of a growing organization with a reputation for impeccable customer service.
If you would like to join our winning team, please send your cover letter and resume to vanguard@vanguardroofing.com or fill out the form below after reviewing the Job Positions!
If you are a Project Manager with estimating experience in the roofing, supply or related industry and have demonstrated your abilities with a strong and consistent record of success – we want you! You will have an opportunity to earn a significant income and the potential for a career growth and role expansion.
The Project Manager role has the following responsibilities:
♦ Primary accountability – Plan, staff, coordinate and estimate the project while meeting the budget.
♦ Pre-job planning.
Visit site and understand the full scope of the project.
Assess project specifics.
Attend mandatory preconstruction meeting with sales personnel.
Ensure necessary materials and equipment are in place.
Complete safety check-list as required.
♦ Coordinate project with sales personnel and office staff.
Review scope of work, submittals, schedule, and contract.
Establish lines of communication and areas of responsibilities with the team regarding change orders, billings, etc.
♦ Provide accurate estimates including labor and material from both bid documents and / or sales personnel revisions.
♦ Interface with office-create pre-job equipment list including safety, specialty equipment, and rentals. Schedule trucks, equipment deliveries and returns. Liaison between field and shop regarding materials needed on a daily basis.
♦ Provide field support for production crews.
Track and monitor labor expanded.
Generate extra work orders, not in contract and secure backup .
Coordinate receipt of daily job reports.
Investigate any incidents (OSHA, Thefts, etc.), document and submit to office manager immediately.
Provide assessment with all related backup.
Coordinate scheduling of subcontractors.
Review all specs and change orders prior to the final close-out of the project.
Pre-inspection punch list to be done by Account Executive with project Manager prior to final inspection.
♦ Meet with entire team to finalize outstanding issues.
Strive for a goal of zero punch-list items prior to crew leaving the job site.
Daily contract with sales personnel to review job progress and issues.
Provide progress photos.
♦ Do you have the following skills, abilities, and experience?
Are you knowledgeable about commercial roofing systems, able to estimate building conditions from new construction to modifications or have similar and relevant experience from a related industry?
Are you a pro at reviewing drawings and blue-prints for accuracy, understanding specification, bid documents and preparing a comprehensive quotation?
Are you computer literate, including knowledge of estimating software? If you have experience with EDGE software, even better!
Can you boast of at least five years of successful project management experience in commercial roofing or a related field?
Vanguard a family owned commercial roofer is looking for an experienced salesperson.
Successful candidate will have direct sales and service sales experience
Interested candidates should send their resume for consideration!
The SalesPerson role has the following responsibilities:
Work towards meeting or exceeding individual sales goals.
Follow established Vanguard's sales processes through to completion.
Maintain a thorough knowledge of Vanguard's services.
Complete sales training, the re-class studies and formal class session.
Ownership of appointments and commitment to convert sales leads into sales.
Ensure customer satisfaction.
Present a professional appearance and image to the customer.
Fulfill the role of team membership to ensure overall customer satisfaction and sales performance.
♦ Job Requirements:
Ability and desire to learn and follow a specific selling process.
Driving record in good standing
Minimum of two years' service selling experience.
Direct sales experience preferred.
Computer skills are a plus.
Ability to build relationships through instilling confidence, sharing information, and meeting commitments.
Skills of effective communication: clear/accurate messages and active listening.
Ability to record accurate measurements and translate measurements into a visual layout and scope of work to be performed.
Skills to organize and follow through in handling details, documentation, records, requests, and processes.
Ability to self-manage time and activities to meet deadlines, goals, quotas, and customer requirements.