Metal Roofing
Metal Roofs – Increasingly Popular and Easy to Maintain
Metal roofing systems are becoming increasingly popular for commercial business and industrial buildings. These roofs offer reflective properties, which help to provide energy-saving cost reductions that lower the bottom-line operating expenses for businesses. Metal roofs come in many textures, widths, profiles, gauges, and colors. You can choose from standing seam, r-panel, exposed fasteners panel, curved panel, simulated tile, shingle, slate, and shake profiles. Metal roofs are durable and long-lasting, making them a great option for commercial businesses. They are also a low-maintenance roofing option, which means they won't require a ton of upkeep every year and can last up to 60 years or more with proper maintenance.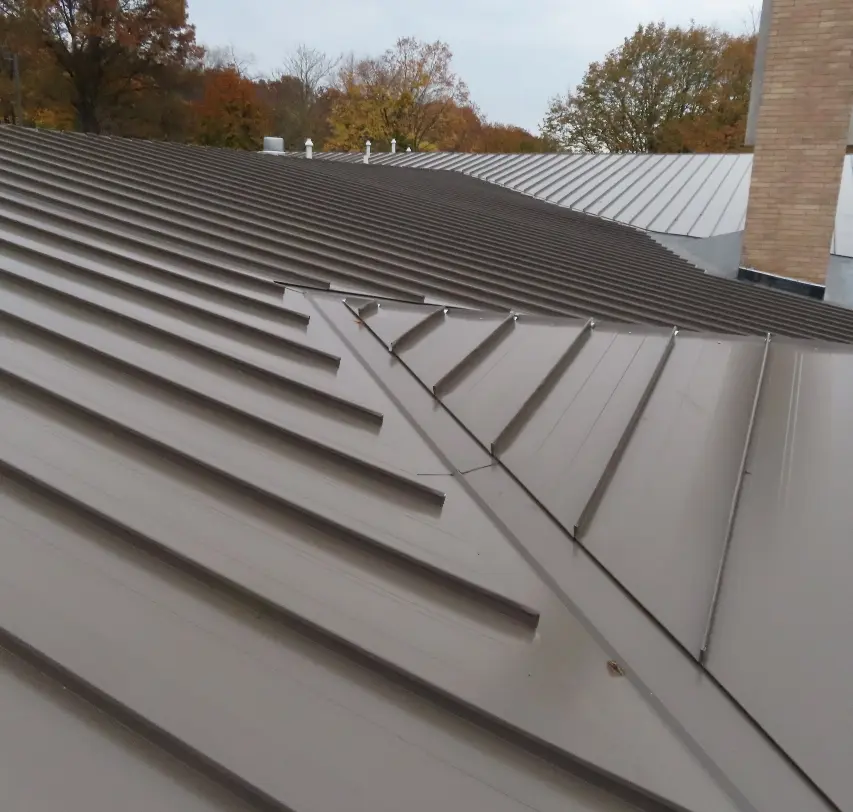 Metal Roofs are Great for the Environment
Metal roofing is one of the most environmentally-friendly roofing materials, as it is 100 percent recyclable and contains zero petroleum-based materials. Some metal roofing colors are designed to reflect the sun and allow for ventilation under the panels. Metal often can significantly improve energy efficiency and lower your business operating costs overall.
Metal Roof Maintenance and Repairs
The harsh Northeast winter may corrode and rust your metal roof. Periodic maintenance, coatings, and repairs to your metal roof will defer the need for a complete roof replacement.
Vanguard knows what to look for when inspecting your metal roof and will make the necessary repairs by using materials that are specifically formulated for use on your metal roofing system. We are experts in metal roof maintenance and repairs!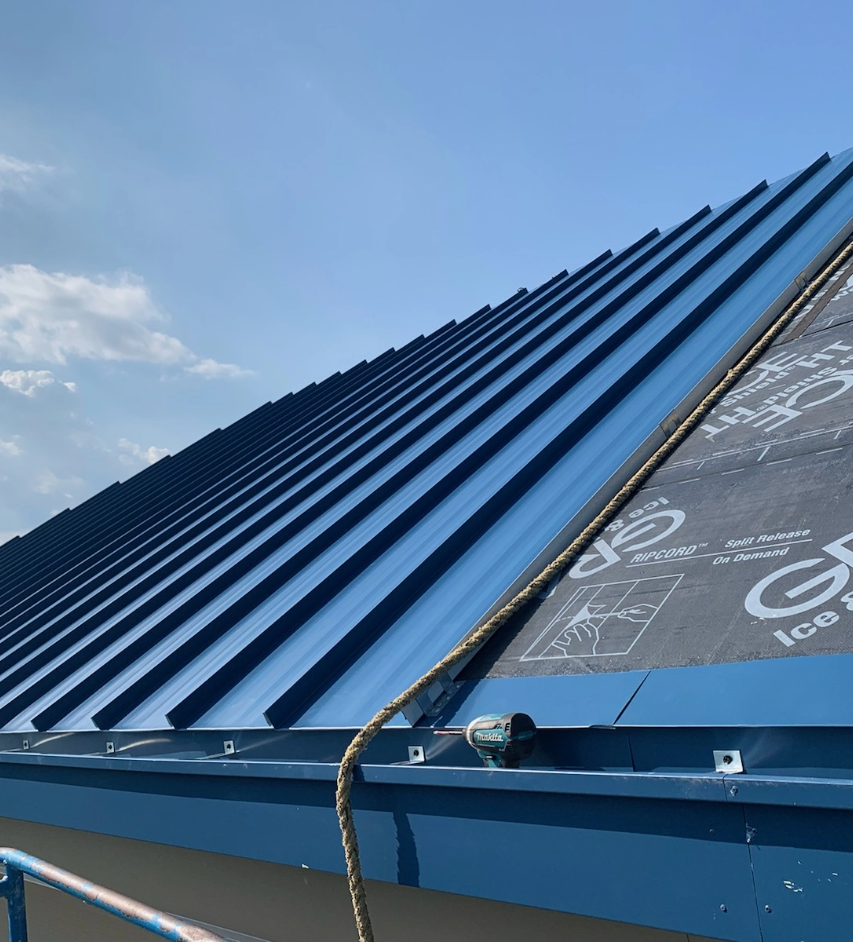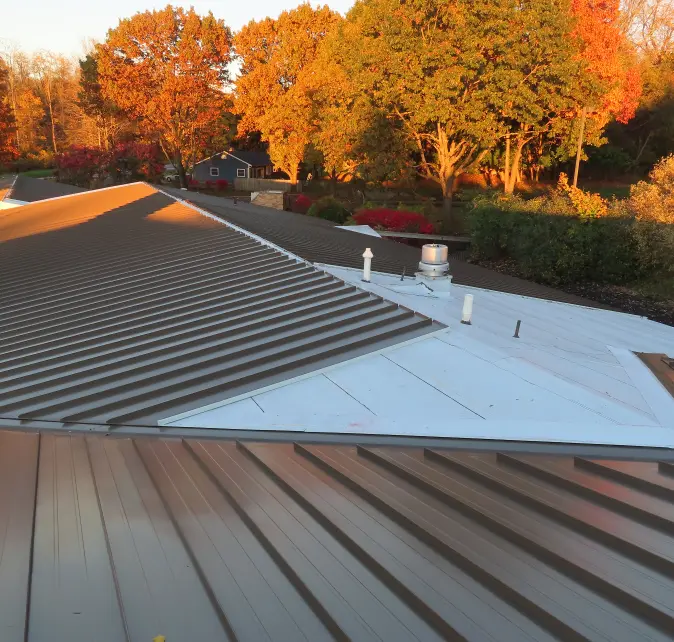 Metal Roof Replacement Process
When it's time for a full metal roof replacement, Vanguard doesn't take any shortcuts in our installation process. We begin by removing your existing roofing system, including the vents and fasteners. If any roof sheathing or fascia boards need to be replaced, we can do that also during the removal process.
Once the new roof is on, we will make sure all of the fasteners, overlapping seams, and flashings are done properly. If improperly installed, water may infiltrate between the fasteners and can cause deterioration. We will ensure everything is in good working order to prevent any water intrusion.
Once a roof replacement has been completed by Vanguard, it is strongly suggested that your business sign up for one of the roof maintenance plans. This will keep your roofing system functioning properly year after year.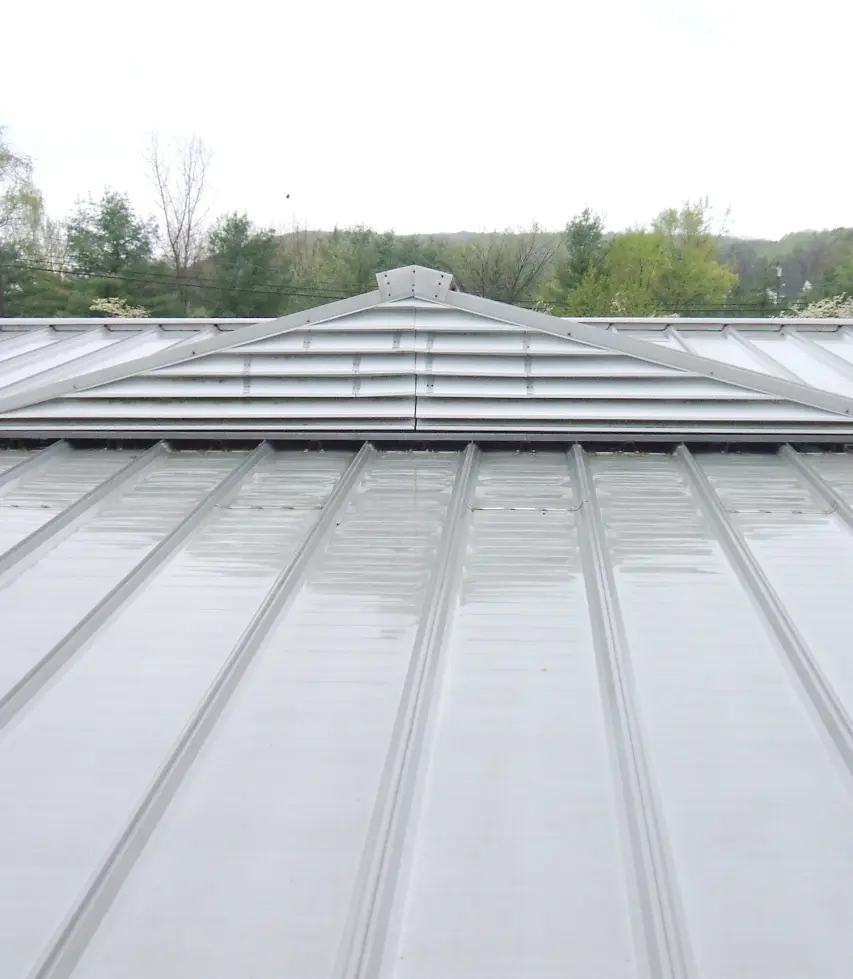 Metal Roof Accessories
When adding a metal roof to your property, it's also important to think of the accessories you might need as well. Take a look at some of the accessories we offer at Vanguard for your roofing system.