Flat Roof Systems
The Popular Roofing Choice For Businesses
Flat roofs and low slope roofs are the most popular roofing options for businesses and industrial properties. They are often easy to maintain and are low-cost, when done properly, while also being energy efficient! It's important, however, that these roofs are inspected regularly for leaks and necessary repairs. When moisture gets into your roofing system, it will accelerate the deterioration of your roofing material and the roof deck. This type of component breakdown will lead to roof repairs and replacements sooner than a business owner is expecting. On average, flat roofs last 20+ years with annual maintenance, or potentially only half of that when the roof is neglected. Which means business owners will want to keep on top of maintenance to avoid larger repairs and replacements.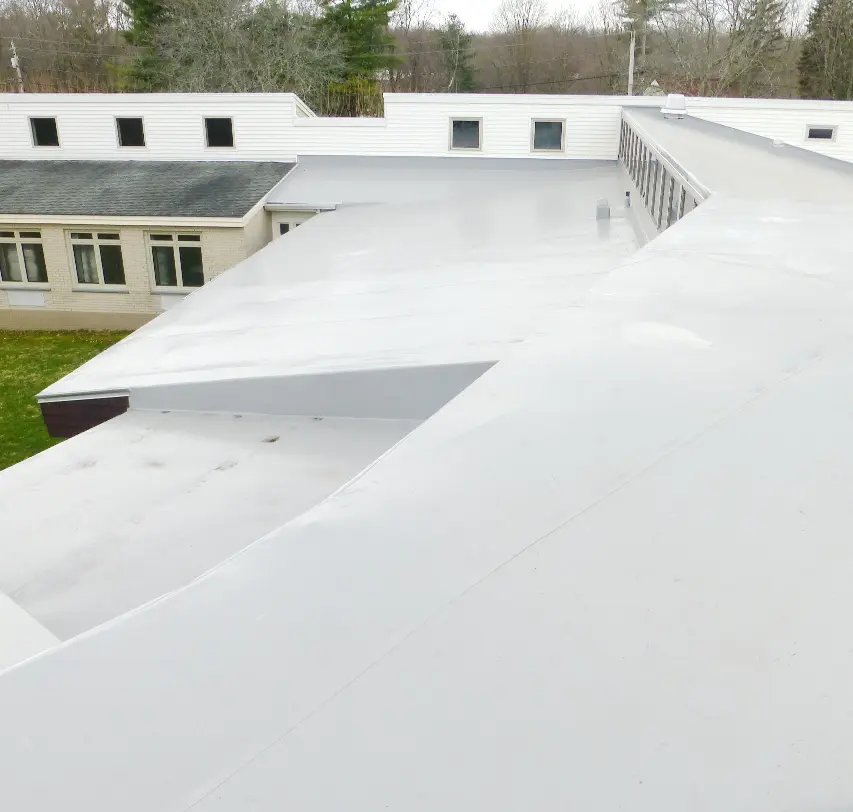 Flat Roof Repairs – Fix the Problem Before It's Too Late
A leak on a flat or low slope roof is usually regarded as a nuisance until it can be fixed. Still, these leaks can lead to electrical and safety hazards in the workplace and equipment or product damage. They may even require closing the business if left unrepaired for too long. It is important to stay on top of leaks and other damage so that their overall effect on your roofing system is minimal. At Vanguard, we are committed to maintaining your commercial or industrial flat or low slope roof so that your roof will exceed its expected life.
Flat Roof Replacements that Last
An "out-of-sight, out-of-mind commercial roof" has an average of approximately 10 years of viable roofing life. It may be likely that you will need to replace your flat roof sooner than a business owner might expect. At Vanguard, we work closely with you to install the best roof to both meet and exceed your needs so that your new roofing system will last its expected life cycle of 20+ years.
We ask the important questions such as: Do you want skylights or plan on installing solar arrays now or in the future? How often is your HVAC equipment serviced? Is there any difficulty in accessing your roof? How long of a warranty do you want?
We believe in partnering with you from the early design and specification phases because this eliminates hidden costs and future surprises. We strongly believe in doing it right the first time and want to ensure your new roof is built to last. We use only the highest quality commercial roofing materials, increasing the expected service life of your roof.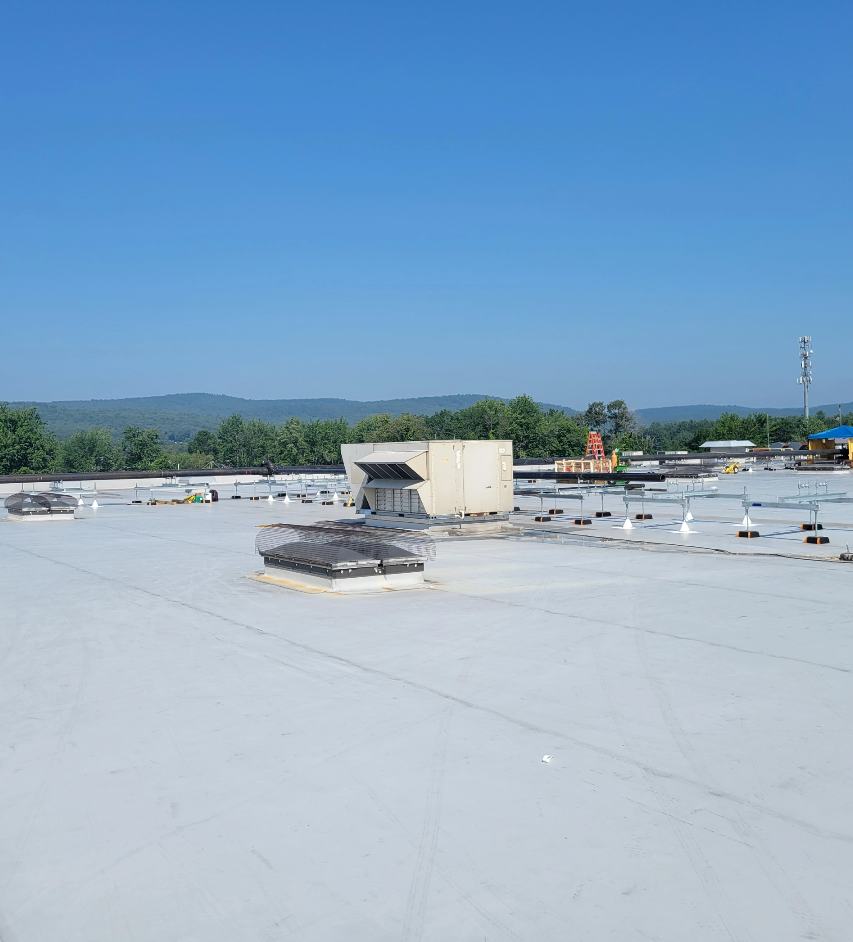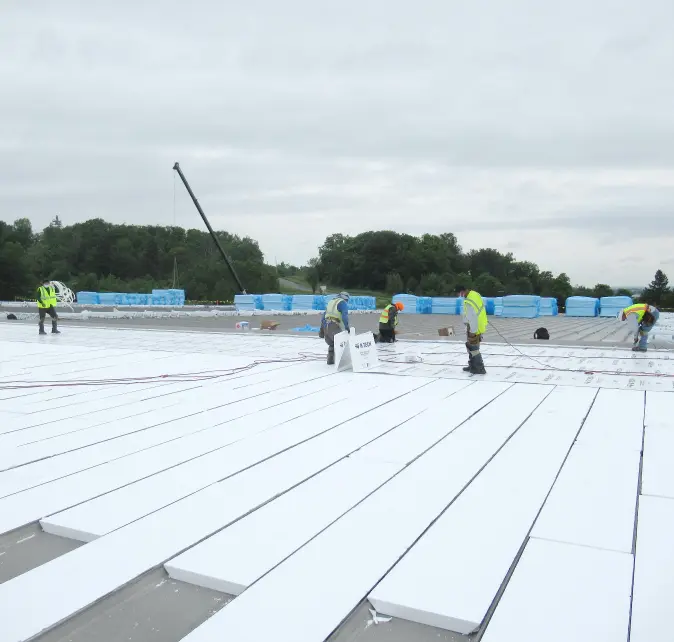 Retrofitting Your Roof
If you have an existing metal roof, it could be time to update your roof to a flat roofing membrane system. Vanguard can utilize your existing metal roof as the new roof deck, which will preserve the existing metal roof, thus stopping excess waste from going to the landfill. We can add special insulation that meets today's "R-value" over the metal deck. This will save you energy-costs while also providing a quieter roofing system for your occupants.
The new retrofit system will fully encapsulate the roof, providing a stable system that reduces expansion and contraction while also providing an option for a "cool-roof" for additional energy savings.
By choosing a retrofit for your existing metal roof, it shortens the installation of a new roofing system since there is no roof tear-off. This decision saves you the costly roof removal fees.
High-Quality Flat Roofing Products and Accessories
For a roof to last 20+ years, not only does it need to be installed properly, but the materials need to be of the highest quality. At Vanguard, we take pride in providing the best materials in the industry for your business. A roof is an investment that should be built to last.
Contact us today to ask about adding these additional features to your roof.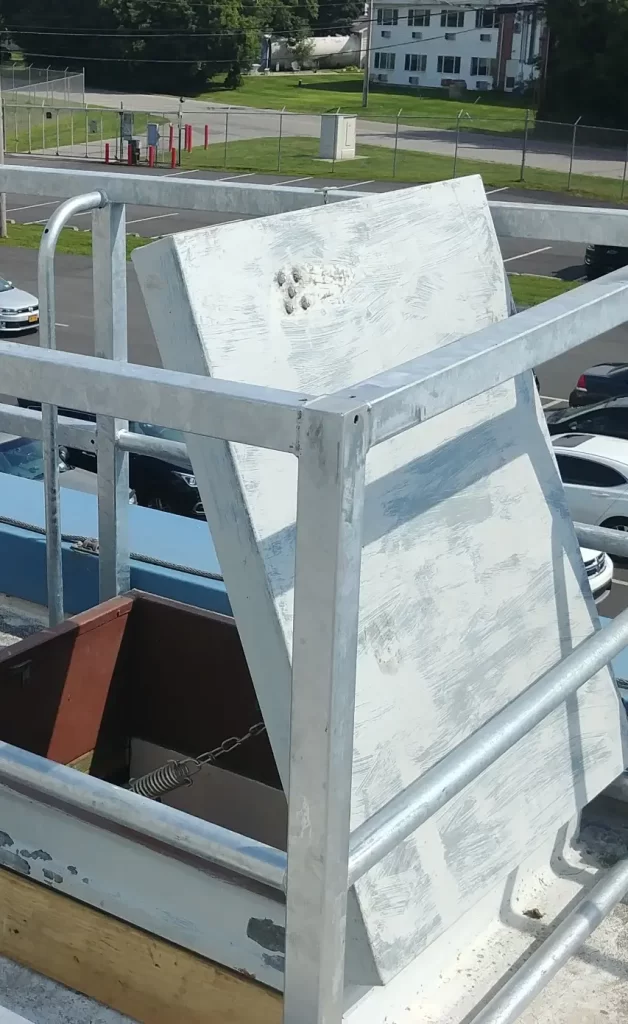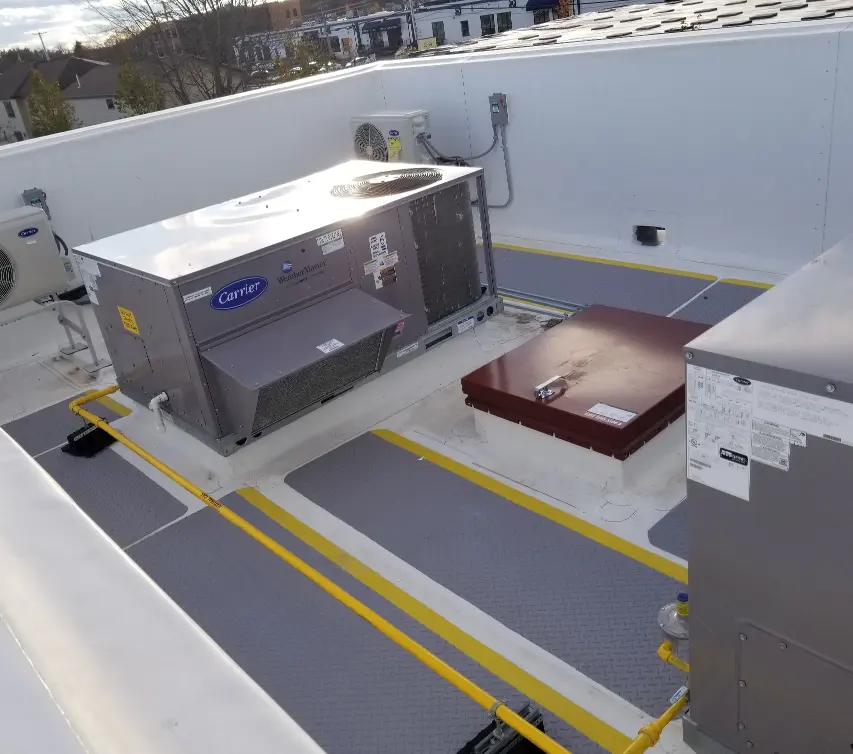 Complete Roofing System
Your flat roof should be thought of as a complete roofing system, which includes the roofing material itself, the metal gutter system, and a venting system if appropriate. All of these components work together to keep your roof working properly. The gutter system helps to remove the water away from the roof and your building's foundation. Proper ventilation for your roofing system helps keep your roof's components moisture free. We also offer custom prefabricated stacks, deck sheets, parapets, and curb flashings to keep your commercial roof fitting together as it should.
Warranty
Vanguard uses only high-quality roofing products that when we complete your new roof, the manufacturer's representative directly inspects and certifies our work and processes your warranty.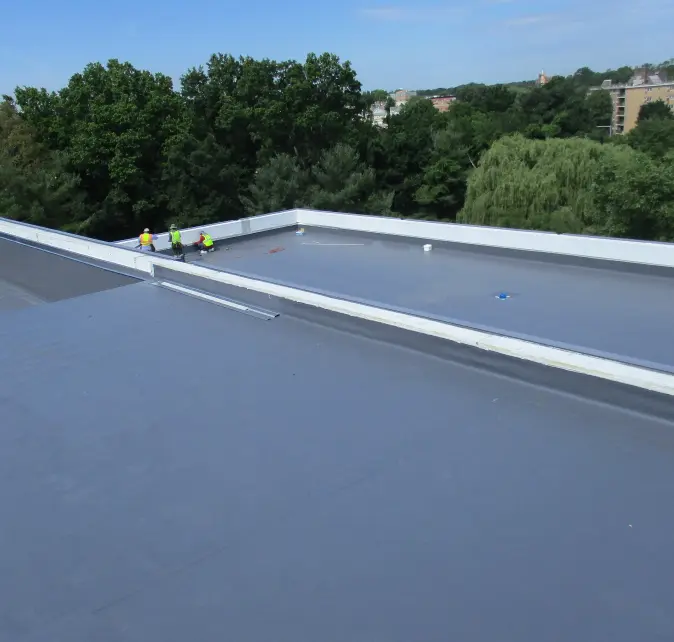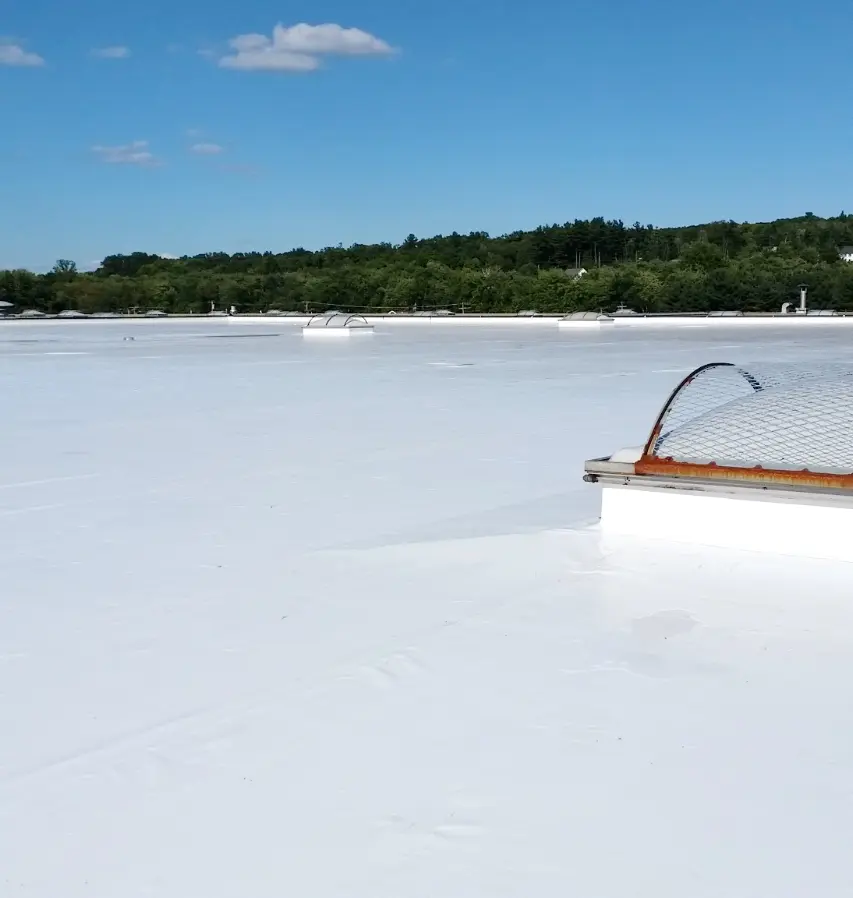 Our Replacement Process
In order to provide you with a high-quality, long-lasting flat roof for your commercial building, Vanguard uses comprehensive roof replacement techniques. We first clean your existing roofing system and remove and replace any deteriorating roof sheathing or damaged components such as insulation, recovery boards, decking, etc. Next, we install a membrane on the entire roof and install perimeter flashings, curb, boots, and safety walk-pads at the roof access points.
We are proudly certified and listed as an "Elite Contractor" with the top manufacturers such as Carlisle, Duro-Last, Firestone, Johns Mansville, Windsmart, Kelly 2001 roofing systems. Using their materials on our flat roof projects to ensure the longevity of your roofing system. We stand behind their products and reputation to provide you with the highest quality flat roofing system available at a fair and reasonable price.