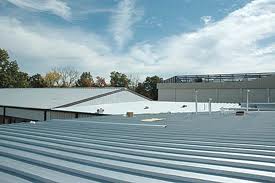 Commercial Metal Roofing Installation
New York, Connecticut, New Jersey, Massachusetts
More and more energy saving roofing systems are sought after to provide interior energy saving costs, adding directly to bottom line figures. Among the many systems to choose from are metal roofing systems. Metal roofing comes in an array of textures, profiles, gauges and colors. Today, metal roofing is available in standing seam, tile, shingle, slate and shake profiles to comply with building considerations. Metal roofing's reflective properties reduce cooling costs in the summer and provide a reasonable ROI.
At Vanguard Roofing, we understand that the roof is one of the most important features of your building – it is, after all, the first line of protection against the elements. Metal roofs are some of the most durable and long-lasting roof types.
---
Metal Roof Cost Calculator
FREE – No Obligation Metal Roofing Estimate
With our interactive Metal Roof Decider software, you can choose the materials and accessories that fit your building's style and your budget. By clicking on the "Go Metal" image, you will be walked through the metal roofing process to customize your roof estimate your way, on your budget. At the end of the process, you will have the opportunity to submit your custom roofing plan to Vanguard Roofing for a truly customized estimate.

The Advantages of Metal Roofing
Long Life Span – Unlike other roofing materials, metal roofs will not crack, shrink or erode over time due to wear and tear.
Durability – Metal roofing is designed to withstand the wear and tear usually caused by heavy rain and high winds. A metal roof will even reduce the snow load on your home during the winter season by allowing it to slide off, which will help prevent leaks and other issues resulting from heavy snow loads.
Energy Efficiency – Metal roofing is one of the most energy efficient types of roofing available. You could end up saving around 40 percent off your heating and cooling costs by installing a metal roof.
Environmentally Friendly – In addition to helping cut down on energy use, metal roofing is 100 percent recyclable and contains no petroleum based materials.
Low Maintenance – Because of its durability, a metal roof requires little to no maintenance.
Design Options – Metal roofs are available in a number of different styles and colors to complement any type of home design you might have.
---
The Metal Roof Replacement Process
The process of replacing your old roof is a comprehensive one – no shortcuts are taken as we demand the highest quality installation possible from our contractors. We will remove your existing roof system, from the old roof covering to the vents and fasteners. Any roof sheathing or fascia board that needs to be replaced will be.
We will then install new VELUX self-flashed skylights, EPDM compression boots, new vents and drip edge flashing wherever applicable. New valley metal will also be installed down all valley areas. Your choice of metal roofing style will then be installed.
At Vanguard Roofing, we take pride in our work. We have been providing roof replacement services for over 40 years and all our workers are OSHA certified. Call us, and let us help you design a durable, long-lasting metal roof for your home.
---