Commercial buildings have many parts that help businesses grow and profit. One of the most important, though often overlooked, is the roof. It's a primary protective layer that not only keeps the occupants of the building comfortable but also safeguards all the equipment and records from harsh weather elements.
Commercial building roofs are built to last and offer the best service during their lifetime. But that's not to mean that you shouldn't take precautions like regular commercial roof inspections to ensure the roof is functional and there are no damages.
One of the reasons why preventative maintenance is so essential is because it extends the life of any type of commercial roof, including commercial slate roofing, and dramatically reduces repair costs.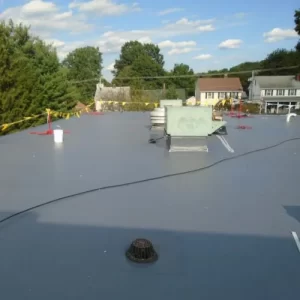 What is Preventative Roof Maintenance?
Most commercial properties have a low-slope or flat commercial roof, making preventative roof maintenance an important and cost-saving strategy for the building owner or manager. Preventative roof maintenance is a series of efforts dedicated to avoiding premature damage and identifying problem areas early when they are still small and easy to fix. A proper preventative roof maintenance procedure should include the following; 
An inspection of the perimeter and roof field – Large commercial roofs can have a lot going on without you even noticing. Regular inspection of the flashing, drains, skylights, coping caps, lap seams, downspouts, gutters, and T-seams can help you spot early signs of trouble and fix them before they cause chaos to the businesses down below.
Removal of debris – The size and low-sloped nature of commercial roofs mean they can easily collect debris which can empty into the gutters, drain sump areas, and leaders. Without timely removal, the debris can wreak havoc on the roof materials and drastically reduce its lifespan. Debris, like leaves and twigs, though not heavy, prolongs the exposure to moisture on the roofing material, which can lead to mold and rot that can compromise the structure. Timely and effective removal of such debris keeps your roof functioning properly and in tip-top condition.
Timely repairs – Should you notice any damages or defects during the preventative maintenance inspection, fix them immediately!
3 Reasons Why Preventive Roof Maintenance Is So Important
Opting for preventative roof maintenance is one of the best decisions you can make for your commercial building's bottom line, your clients, and your finances. There's no shortage of reasons why preventative maintenance is so essential, but we chose the three most important ones.
Potential Damage from a Storm That Left Unchecked Could Cause Damage to the Inside of the Structure Creating Costly Repairs
One of the best times for preventative maintenance checks is after a storm. The slightest storm can leave damages that get worse with time.
A professional roofing expert inspecting the roof after a storm can help identify and fix potential problems early on. Minor issues like a small leak can compromise the structure of the roof and damage the walls. A measly leak repair bill can quickly become an overhaul with tremendous cost implications. 
Although most commercial roofs are designed to handle storms, it's not to say they won't suffer some damage in the process. Getting ahead of the damage will keep your roof ready for the next storm without tearing holes into your pockets.
Potential Loss of Employee Days of Work during Repairs
Most minor commercial roof repairs can be completed without the businesses inside the building even knowing what is happening. They are not intrusive and don't cause any disruption. Unfortunately, minor roofing problems have a tendency to become a significant pain quickly if not checked.
When such problems get out of hand, you have to shut down the building for repairs for the safety of the employees and other occupants. But that's just the beginning. You will also lose work days and business when the building is cordoned off. Consider the amount of time it would take to get back to full operation after the repairs are complete. It's not just the enormous repair cost you would be looking at but also the lost revenue.
Potential Loss of Inventory
Businesses stand to lose inventory from a leaking roof or falling debris from repair. You can avoid these losses and provide your employees and tenants peace of mind by having regular roof inspections and handling any defects and damages when they are small. 
Having a business replace its equipment and inventory can be catastrophic and potentially lead to a lawsuit – all from a small leak that could have been fixed if noticed earlier. It all goes back to the famous proverb, "For want of a nail, the kingdom was lost." 
Preventative Roof Maintenance Done the Right Way, Every Time
Vanguard Roofing has decades of experience in commercial roofing, providing customized roofing solutions for commercial, institutional, and industrial clients in the Northeast United States. With our experience, we can help you install a new roof, provide emergency storm damage repairs, and, most importantly, provide preventative commercial roof service repair that helps you get longer service and value for money from your commercial roof. Get in touch with us today for information on how we can help you avert a disaster and keep your commercial roof in the best condition.