As the owner or manager of a commercial building, you always look for ways to cut costs. This applies to finding a roof replacement that is cost-effective, durable, and has a long lifespan. Consider Duro-Last roofing materials for your roof. Duro-Last is a single-ply roofing membrane that can be applied over your present roof. There are several types of flat roofing options suitable for commercial roofing. Duro-Tuff, Duro-Fleece, and Duro-Last. The most popular style is Duro-Last, which includes stack flashings, drain sleeves, and outside corners, making it unique in the market. 
Duro-Last Roofing Material
Installation Process – The commercial Duro-Last roofing is installed in 2 ways. The first is to glue down the PVC membrane, and the second is to secure the membrane with fasteners. There are many colors available. The most popular are white, tan, and light gray.
Flat Roof Overlays – Professional roofing companies can recover many types of roofs with Duro-Last roofing. Here are several roofing systems that are compatible:
EPDM
Tar and Gravel
Bur
TPO
Ballasted roofs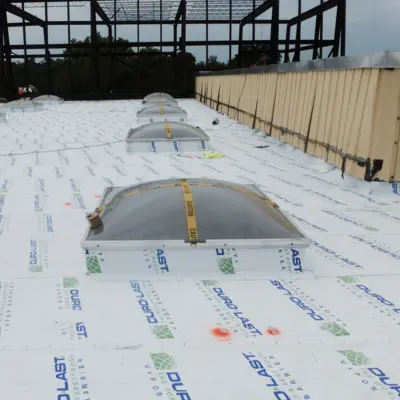 This process is sometimes called a flat roof overlay. This process can stop roof leaks without the hassle and expense of a complete roof tear-off interrupting your daily operations. The cost savings make this an incredibly popular choice for commercial building owners. The savings can be as much as 50% less than a complete replacement.
Duro-Last Metal Roof Retrofit – A commercial building owner can avoid tearing off a metal roof by using the overlay process with Duro-Last roofing. This solution can be highly cost-effective considering the size of a large warehouse or similar building. Building operations can continue with minimal disruption.
Duro-Last Warranty Information – Duro-Last membrane has outstanding warranty protection. There is no requirement for a yearly maintenance schedule and no exclusions for ponding included in the policy. A licensed roofing contractor must do any repairs to a Duro-Last roof.
Duro-Last Roofing Care 
Keeping a Duro-Last membrane in good condition does not require much labor. The drains and gutters need to be kept unclogged for proper water run-off. Adding or repairing mechanical equipment on a commercial roof can be done without worrying about the membrane, considering it can be easily repaired and stays flexible. 
Regular Check-Ups
A regular check-up from a qualified roofer will ensure your roof lasts its recommended lifespan. A small problem detected and repaired early will not have the chance to become a bigger problem later. The spring is an excellent time to check for any damage from a harsh winter. The goal is long years of service and energy-efficient performance.
Repair Methods for Duro-Last Roofing
Duro-Last roofing has an average lifespan of 25 to 30 years. If repairs are ever needed, a professional roofing contractor experienced with this material can usually complete repairs in 1 day. Building owners benefit from minimum interference, especially for a manufacturing type of operation. A roofing contractor certified with this material can identify the source of a leak and do repairs immediately.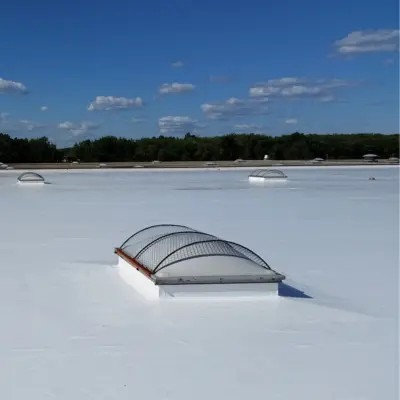 Additional Benefits
Energy Efficient – Duro-Last roofing material is one of the most energy-efficient on the market today. The energy costs of a commercial building can benefit significantly from these savings. 
Simple Installation – Because the membrane is applied directly over existing roofing, the process can be completed quickly with minimum interruption.
Reduced Cleanup – Since your current roof does not need to be removed, far less cleanup is necessary. This amounts to significant savings in cost and reduced waste.
Prefabricated design – Your roof can be measured in advance, and the membrane can be installed with the least amount of necessary seams. This minimizes the possibility of moisture penetrating the material.
Installation Cost
These factors determine the cost of installing a Duro-last membrane:
The size of your roof measured in square footage
The thickness of the membrane being used on the roof
Type of installation
The access necessary
The condition of your current roof
Just as with any roof installation, any repairs necessary to the damaged roofing structure must be done before new roofing can be installed to prevent leaking in the future. There are not many cons to consider with Duro-Last roofing. The key to a long lifespan is to employ a contractor experienced in this type of commercial roofing installation. Then, you can be sure they will do it correctly, and your warranty will be honored. 
Please contact Vanguard Roofing for a free estimate on installing a Duro-Last roof on your commercial building. We will be happy to inspect your building and recommend the right roofing for your business. We have been proudly serving commercial and industrial customers in southeastern New York since 1972. Our friendly staff will be happy to explain Duro-Last Roofing or any of our services. Let's get started installing an energy-efficient roof for your building soon!