We all talk about the importance of having a roof over our heads, but how many of us take the time to think about the state they are in? Most of us only think about roofs in emergency situations, when they spring a leak or get damaged somehow. That is why commercial roof inspection is critical to property ownership. Let's take a closer look.
What Makes Commercial Roof Inspection so Important?
The roof is any building's first line of defense against the elements. Making it a habit to have professionals carry out regular inspections helps in numerous ways, including;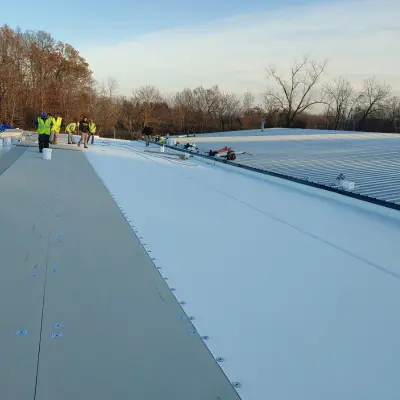 Early Problem Detection
The saying that a stitch in time saves nine applies perfectly to your commercial roof. Any damage to your roof, whatever the root cause, might lead to moisture buildup in your building, eventually damaging the walls, ceilings, window coverings, paint, and so on. Given more time, this might develop into a dangerous mold, fungi, rot, and other issues that could pose a risk to the health of the building's tenants.
Simplifying Insurance Claims
Property insurance is a vital resource for property owners. It makes it possible to receive compensation after hurricanes, violent storms, tornadoes, and other natural phenomena. Roof inspectors write detailed reports whenever they carry out their duties, highlighting any danger signs, trouble spots, estimated repair costs, and more. These reports can make it much easier to file insurance claims and receive the compensation you desire than it would be otherwise.
Increased Property Value
Anyone wishing to purchase property wants to know they are getting good value for their money. A roof inspection report will go a long way in convincing potential tenants or buyers that the roof is in good condition, driving up the value of the property as a whole.
Warranty Protection
Most roofing warranties require that owners have regular inspections carried out so that the warranties are not voided. Unauthorized roof modifications, improper roof installation, and improper maintenance and repair work can negatively affect the state of your warranty.
Long-term Cost Savings
Typical roof installations come with lifespan estimates that let property owners know when to carry out replacements. Regular roof inspections can help lengthen roof lifespans by detecting and dealing with potential dangers in good time. Maintaining a regular roof inspection schedule will save you significant amounts of time and money as time goes by.
Final Thoughts
Aside from the benefits we've mentioned above, having roof inspectors evaluate the condition of your roof at least once a year will offer you one great advantage – peace of mind. At Vanguard Roofing, our experts have the training, experience, and tools to provide world-class, cost-effective commercial roof inspection services. Call us today!
Sources