Certified Commercial and Industrial Roof Replacement Contractors in Springfield, MA
Springfield, MA's Most Reliable Commercial Roofing Contractor
Most internationally famous for being the home of the Basketball Hall of Fame, Springfield, MA, is a city rich in heritage, higher education, and innovative business opportunity. A variety of industries, including manufacturing, energy, health care, transportation, and professional services, define Springfield as perhaps the most diverse business community in Greater New England.
No commercial roofer has deeper ties to the Springfield community than Vanguard Roofing. For 50 years, Vanguard Roofing has been exceeding the expectations of business owners and commercial building managers by delivering the highest-quality roofing products and employing the latest technological advances. We also pride ourselves on being the most knowledgeable and expertly trained designers and installers in commercial roofing. Vanguard Roofing utilizes innovative solutions, on-time scheduling, and relentless thoroughness through every stage of your roofing project. You can depend on Vanguard Roofing to do the job right the first time.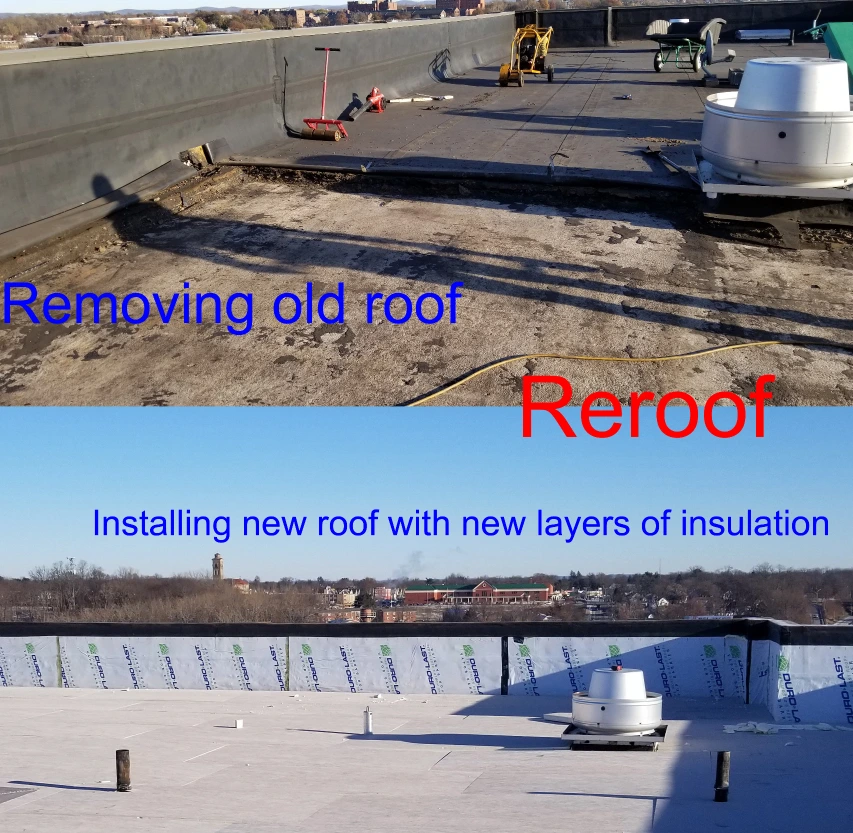 The Industrial and Commercial Roof Replacement Experts in Springfield, MA
Over the years, Vanguard Roofing has been proud to serve clients of all sizes throughout Greater Springfield, including the University of Amherst, Mount Holyoke College, and Baystate Health. Commercial building owners and managers understand that we provide unsurpassed service that meets your budget and works within your timeframe.
Whether you are looking to replace a flat roof, a metal roof, or a slate roof, we give you a full menu of roofing material options to ensure you receive the most durable, longest-lasting products available in the industry. Those roofing product offerings include Duro-Last, Carlisle, Sika Sarnafil, and Johns Manville. At Vanguard Roofing, our certified roofing consultants can assist you in determining what type of roof best meets your needs.
When you work with us, we partner with you to design your new roof and schedule installation services that provide you with the least amount of inconvenience. We strive to ensure that our work is performed in a way that enables you to continue your business uninterrupted. At completion, we make sure your roof has met all local building code and roofing manufacturer requirements. Call or email us today to schedule a free, no-obligation consultation.
Unparalleled Retrofit Roofing System Services
At Vanguard Roofing, our designers specialize in developing the optimal retrofit roofing system for your building's existing roof. Many times, your roof does not necessarily need replacement. But your roof might not be performing to the standard you need in the long term. If your building has a flat roof, installing a sloped roof can significantly extend your existing roof's life and enhance your roof's aesthetic appearance. Your new retrofitted roof may also become much more energy-efficient and add substantial market value to your building. Contact us today to discuss how a retrofit roofing system can extend the life of your commercial building's roof.