Solar Ready Roofs
Energy-Efficient Roofs are Great for Your Business
Energy-efficient roofing isn't just a trend, it's becoming a necessary step for businesses to lower their energy costs effectively. Commercial buildings tend to be larger in size, with more sizable heating and cooling costs than the average residential home. These costs come directly from your business, and as energy costs continue to rise each year, your profit margins begin to shrink. It's important for businesses to invest in energy-efficient roofing sooner rather than later. Not only is it a great move for the environment, but it also makes financial sense for your business to reduce overall energy costs.
Vanguard Roofing has the expertise to prepare your roof to meet the specific requirements for a solar array installation.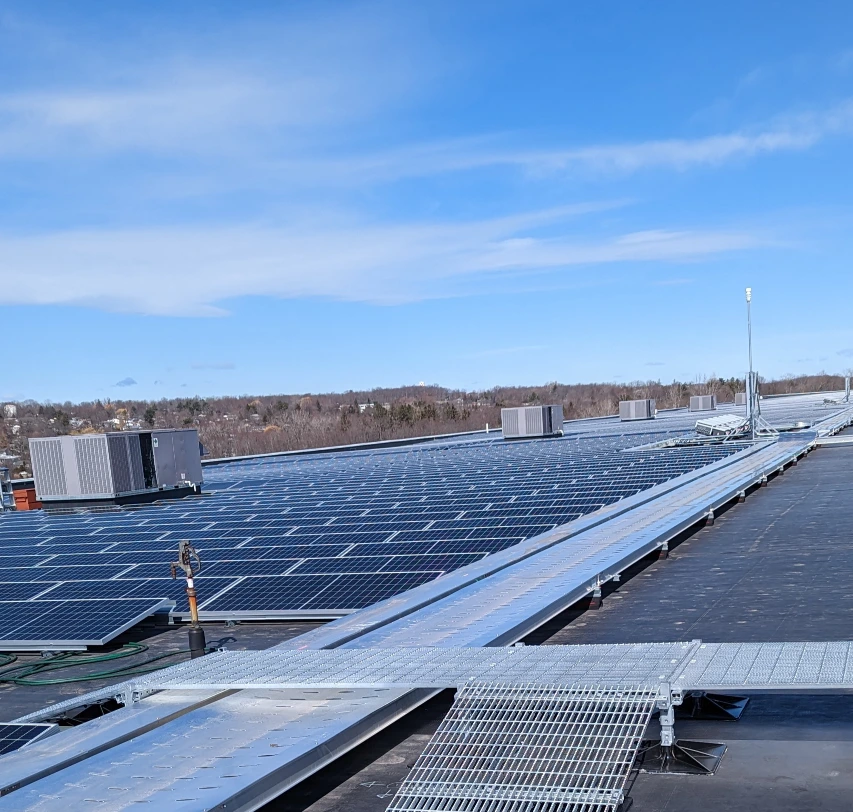 Solar Energy Systems
Solar Energy Systems (SES) are roofing systems that effectively turn your roof into an energy-making powerhouse. Made up of huge blocks of solar arrays, a solar energy system will harness the sun's UV rays and convert them into electricity to power your business.
Flat and low slope roofs make excellent SES foundations because they are typically unobstructed spaces that are rarely used and can often support larger amounts of weight. With such a large open roofing space, your business will be able to transform sunlight into power from dawn until dusk each day.
Vanguard Will Get Your Roof Solar Ready
A solar-ready roof is a roofing system that is already prepped to handle a planned or future SES. Vanguard will help you to determine if your facility's roof is solar-ready by performing a core cut to determine if your current insulation meets today's energy codes, doing thermal imaging to see if there are any potential areas that are failing, and performing pull-tests to see how your current roof withstands heavy winds.
In addition to ensuring that a roof can meet the weight of the system, we must also take into consideration the weight from snow during the winter, as well as wind storms that can occur. We make sure your roof will be able to absorb that weight and stress before solar panel installation begins.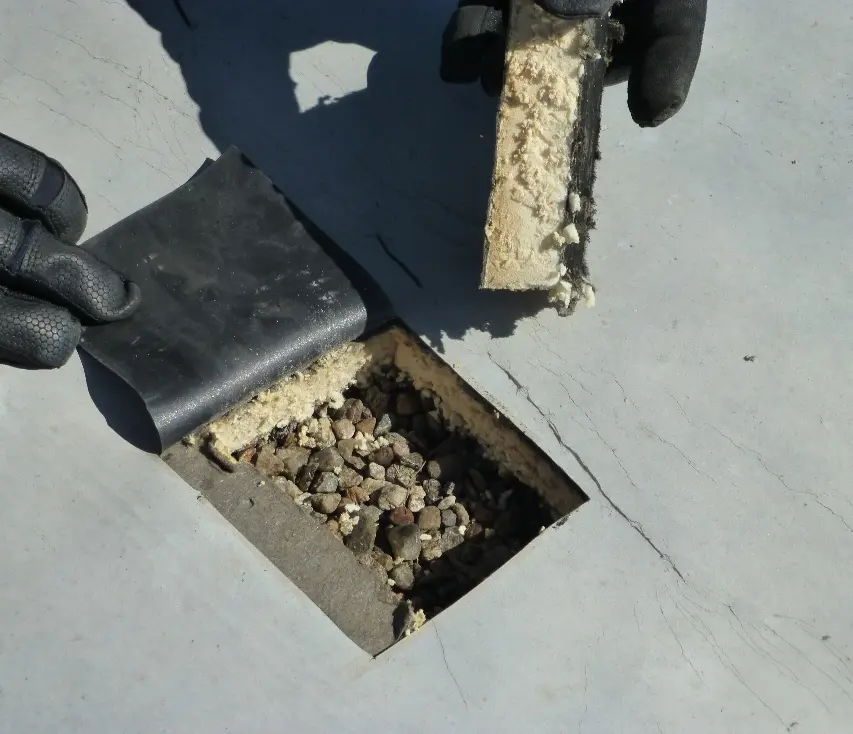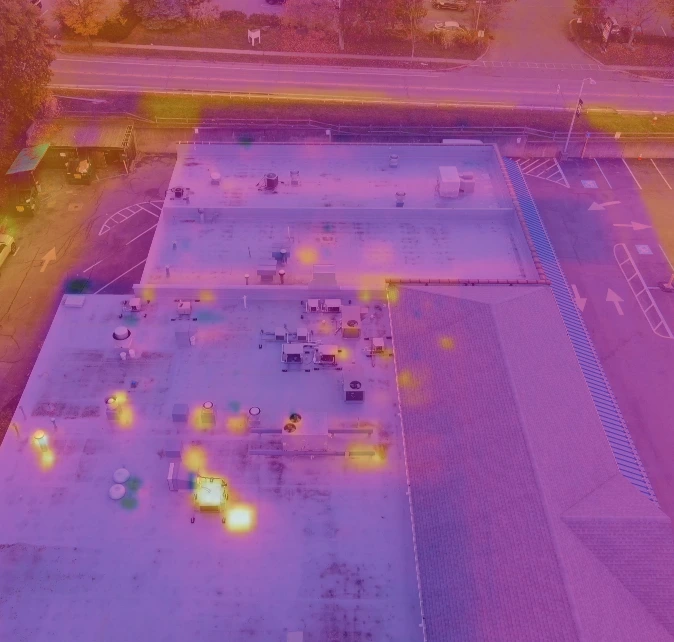 How to Get Started
When you contact Vanguard, we will send out a project manager to inspect your business to see what considerations should be implemented before adding the Solar Energy System. These considerations will be put together in a proposal that will consider your roof's longevity to make sure your roof service life matches the service life of the SES, function, appearance, manufacturer, code requirements, budget, and safety.
The most essential part of your Solar Ready Roof is safety. We will always include in our proposal adequate roof access, guardrails, and tie-offs. We will also include recommendations for walk pads in high traffic areas, infrared scanning to look for potential roof deck water infiltration, gas line prep and painting for increased visibility, and membrane power washing to optimize the benefits of the white reflective coating.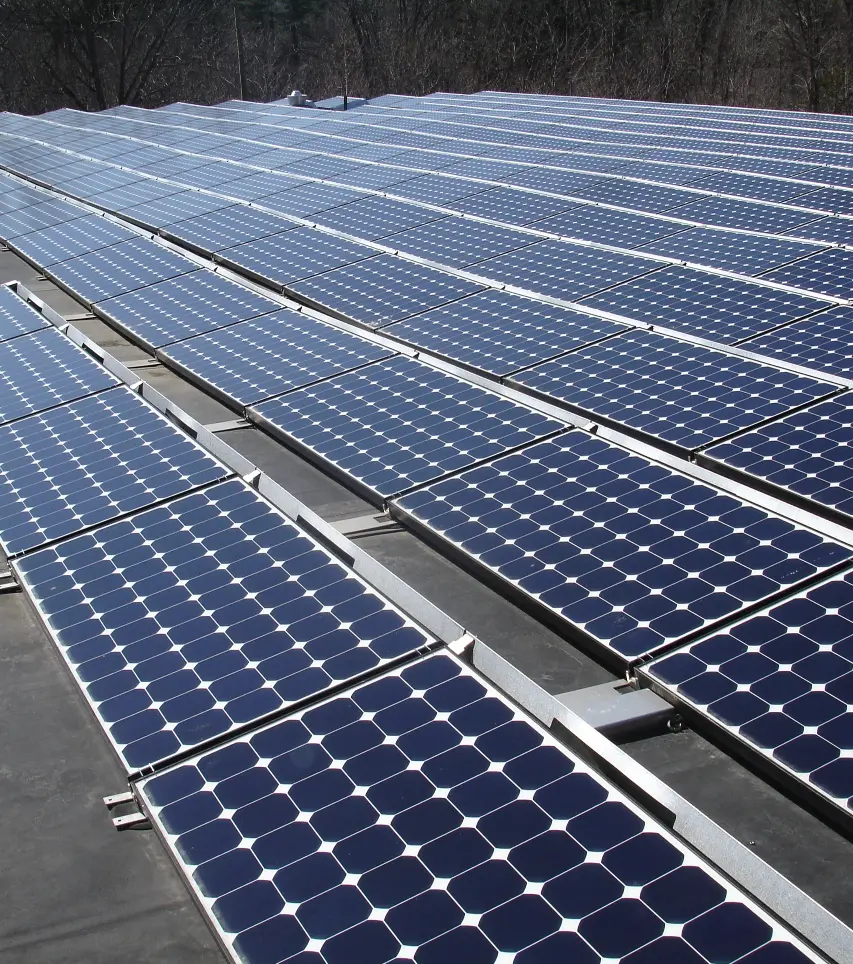 Challenges of a Solar Energy System
On average, a Solar Energy System will add four pounds per square foot and over 40 pounds at each attachment point. If you choose to have a blasted system, it will add another 10 pounds per square foot of your roofing space.
It's important to regularly inspect the roof under a Solar Energy System. Turning off and disconnecting your SES can be expensive when an underlying roof repair is needed. An installed system can also limit access to a vast majority of your roofing field.
To try and avoid any large repair issues, Vanguard matches the service life of your roof with the service life of the SES you decide to install. If your roof is on the older side, we will suggest a roof replacement before adding the solar arrays. Roofs that are not designed to hold additional weight will need to be reinforced before installation to avoid project delays and further roof damage. We also suggest coating your roof in white roof reflective material to bounce the sunlight that hits the roof back onto the solar panels, while also keeping your roof and business cool.
Database of State and Federal Incentives for Renewables and Efficiency
The federal government offers a comprehensive database that will show local, state, and federal incentives and policies that promote energy efficiency and renewable energy in your area. By entering your zip code, you can see which programs are available for you to cash in on for your energy efficiency. https://www.dsireusa.org